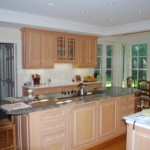 Customers Who Return to Kostaris Construction Again, & Again, & Again (& Again!)
Kostaris Construction began first worked with the Burka's in 1988. We are pleased to have worked many additional projects together since then.
Our first project was a two-story addition and a kitchen remodel.  The second was an attic remodel where we added an upstairs bedroom with dormers.  Next, the front entry way and first floor were completely remodeled with new trim, moldings, foyer and an updated powder room. Fourth, we built another large two-story addition – this time in the rear of the Burka's home. This was a garage/basement extension with a first-floor remodel with a new second kitchen and  a screened-in porch.  Lastly, we updated the basement by removing some walls to make a more spacious living area and upgraded the bathroom.
Completed   1988 -1992-1995-2001-2012