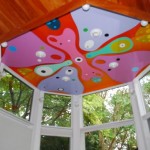 Angelo and his team remodeled the kitchen, family room/library and bathrooms in our Colonial.  The project was completed within the three months that Angelo estimated it would take.  He worked successfully with our architect and was able to execute the architectural plans precisely.  Our house was built in 1942 and we found many hidden "surprises" once the walls were removed. Angelo and his men painstakingly carried out some unexpected corrective work that was necessary before the plans could be realized.  Together with our two young children, we lived onsite during the remodeling.  The crew was always courteous and considerate; the men were hard-working, punctual, and at the end of each workday, the site was swept and tidied up. This made living onsite not only possible but bearable. In the time that Angelo, Roman, Elmer and Henry worked on our house, they became part of our family.
Angelo is a master carpenter, meticulous, and with a great eye for detail. He does not believe in short-cuts and will do the work to the best of his abilities. Always willing to answer our questions, Angelo would discuss and offer solutions to issues that came up. Completing the "punch-list" was not a problem with Angelo, he promptly attended to any problems that cropped up following the end of the project. His highly skilled workers and sub-contractors have worked with him for many years and are trusted implicitly.  We appreciate that on many occasions Angelo and his men would go beyond what was contractually required of them so that the project would move along more smoothly.
We would use Kostaris Construction again on future projects, and would highly recommend this company to anyone who is seeking reliability, high quality workmanship, competitive pricing, and a good bunch of guys!
– June and Bejoy Das Gupta, Washington, DC